1
9 Best Keyword Research Tools to Increase Organic Traffic – [2017 Edition]
Keyword Research is the most important, valuable and effective part of SEO. For this, you need Keyword Research tools. Keyword research tool helps you to find valuable keywords based on your niche. It shows how a specific keyword is searched on major search engines like Google, Bing, Yahoo from different regions.
It is next to impossible to know the total search volume for different months from search engines. So a keyword tool represents you the total search results with just a click.
Why do you need keyword research tools?
The secret of using a keyword research tool is getting organic search traffic and provide you proper and profitable keyword suggestion in any niche.
For example, you have a technology website and you have many articles. But you didn't use any focus keyword that users search on search engines. So you wouldn't get much organic search traffic.
Now if you are writing an article about iPhone and don't know which keyword you should use, then a keyword tool provides you all the search results that are being searched on Google.
With your primary keyword, it also shows multiple keyword suggestions which are also very important to get traffic. You can also check CPC(Cost-per-click), PPC(Pay-per-click), Keyword difficulty etc.
In this article, I'm writing about 9 Best Keyword Research Tools that will help to grow your organic traffic.
9 Best Keyword Research Tools for SEO
---
#1. Google Keyword Planner

(Free)
Keyword Planner is a free keyword research tool that is used for building an Ads campaign and keyword research as well. 
You can search for keywords and ad groups ideas. You can enter your keyword that is your niche and get a compact list of an average monthly search, keyword's competition and CPC. With our main keywords, you can also check other alternatives keywords that are also important to boost your traffic.
To use this Keyword Research Tool, you just need to sign in to AdWords using your Gmail account. Then go to Keyword Planner option. Here you need to provide keywords, your landing pages and your product category.
If you are focusing audiences from the US, then you can specify the country and language also. The date range option provides average monthly searches for a date range you select. Unlike other Best Keyword Research Tools, Google Keyword Planner has no keyword researching limit.
By using Google Keyword Planner, you can:
Search keywords and ad groups ideas
Get keyword ideas and average monthly searches
Provides you alternative keywords suggestions according to your keyword
Get historical statistics and traffic forecasts
Search keywords based on any specific location and language
Try Google Keyword Planner
If you didn't try any keyword research tool yet, then you must need to try Semrush. Semrush is a compact SEO solution for marketers.
By using Semrush, you can research keywords. While analysing a keyword, you will get on hand live updates of organic search, search volume, CPC and competition for any keyword. With your primary keyword, you will get phrase match keywords and related keywords suggestion that is useful for boosting your content.
Semrush also shows you keyword difficulty for the keyword you are looking for. You can know how difficult is your keyword to seize your competitor's ranking in organic search, so you can improve the quality of your content and build more links.
Semrush provides over 25 international keyword databases, so if your audiences are from any particular region and have a multilingual site, then you can the same country keyword databases. This will save your money and as well as time.
While doing the keyword search, you can use their competitor's position tracking tool. This gives your competitor's report to understand which one to improve more to beat your competitors.
Though Semrush keyword research tool is paid, you can use it for free 14 days. I am sure you will really love this awesome tool.
#3.

Ahrefs
When it comes to improving your search traffic and keyword research, then Ahrefs is on the top position.
Ahrefs provides a great Site Explorer features, by which you can check for what keywords your competitors are ranking for and see which keywords are bringing them most organic search traffic.
Ahrefs has the fastest backlink crawler system than any other keyword research tool. So you can easily see backlink sources of your competitor.
Ahrefs great keywords explorer tool provides you thousand of keyword suggestions based on your main keyword, so you will never miss any keyword suggestions. With your searching keyword, it also shows keyword difficulty score, clicks metric, SERP overview and position history. This tool doesn't only provide you keywords suggestion but gives you highly accurate search volume numbers which are updated every month.
Unlike other keyword research tools, Ahrefs has over 100 countries supported keyword database. So no matter where your business is located, your country is most likely on the list. 
In a word, Ahrefs is a great keyword tool for SEO you should try.
SpyFu is one of the best keyword research tools for SEO that provides most profitable keywords to better rank and get more organic search traffic. Their keyword tool shows total local and global monthly searches for any keyword. Along with this, this tool also provides tons of similar keywords that are also needy for increasing traffic.
You can search for any domain and see every place where they have shown up on Google. Even you can see every keyword they are using on AdWords.
Using their keyword tool, you can do both keyword research and PPC research. This keyword tool provides you only most valuable keyword which brings more organic search traffic and eliminates bad keywords. So you can save money and time as well. Work with the most profitable keyword and boost your traffic strategically.
If you are running a PPC campaign, then this keyword tool is great. You can search for a competitor and get their keyword list that they are using on AdWords and see how many clicks they get and how much they pay for a keyword.
Long tail pro is one of the best long tail keyword research tools for SEO. Whether you have a blog, business or any other affiliate site, Long tail pro works great everywhere. You will easily find which keywords are ranking on Google.
With Long tail pro, you can find highly profitable keywords that bring traffic and more leads to your site. Using their keyword research tool, you can find your keywords and all the keyword results come from Google keyword planner tool that I have mentioned before.
You can customize the search preferences by specifying monthly searches, suggested bids and keyword competition. With your primary keyword, you will also get long tail keywords suggestions and monthly search volume.
Visit Long Tail Pro (Now 33% off)
#6.

Moz Keyword Explorer
Moz keyword explorer is one of the best Keyword Explorer tools for SEO. Moz provides compact SEO tools that are needed to boost your traffic strategically. You can use their special Keyword Explorer tool, Backlink Research tool and Rank Tracking tool as well.
By using their keyword explorer, you will get up to 1,000 keyword suggestions based upon your primary keyword. With the main keyword, you can check other alternatives keyword and long tail keywords that also help to bring traffic.
With this keyword research tool, you will get all the data of monthly searches, keyword difficulty, clicks opportunity, keywords priority and all the data are updated every month. So it will keep you updated every month with the newly refreshed keywords.
From the keyword explorer tool, you will also get SERP Analysis of your keyword and you can see which domains are ranking on the top 10 list for that keyword.
Their another great tool is "Site Crawler" that identifies SEO issues and fixes that will take your website to the next level. It schedules SEO audits for any website and provides you weekly reports with data showing broken pages and issues.
KWFinder is another great keyword research tool for SEO. You can find a bunch of short and long tail keywords related to your niche with high search volumes and low keyword SEO difficulty.
Unlike other keyword research tools, KWFinder gives question-based keyword suggestions. For example, if you search about "Keyword research tool", this tool will show results like the below picture.
KWFinder gives you exact search volume data for your keyword research. You can also use this tool like Adwords, and you can research keyword based on any countries, cities and different languages. 
It shows you which keywords are trending from last 12 months and average monthly search volume. Besides, you will get the average CPC, PPC and keyword difficulty as well.
Their basic plan starts from $12/month and you can save $199 per year.
Visit KWFinder (Now 58% off, Coupon added in this link)
#8.

Wordtracker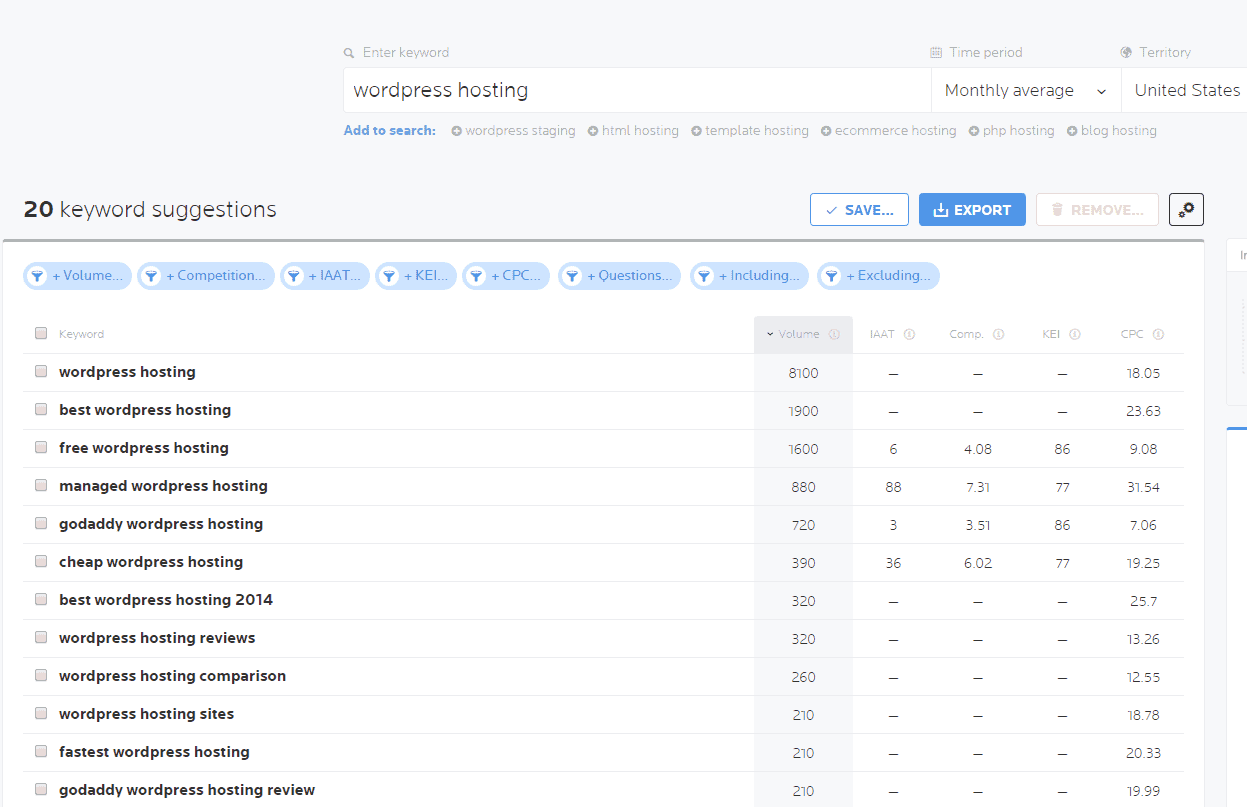 Wordtracker is another best keyword research tool that helps to grow your business. If you search for any keyword to your niche website, it gives you 200-300 related words and phrases that real people have recently typed into search engines.
If you are spending a lot of time to find exact keywords, then use Wordtracker tool. It gives you only profitable keywords and you'd never have thought of on your own. You can also get long tail keyword suggestions from Wordtracker.
During the keyword research, you can get keyword suggestion from Wordtracker or Google. If you want to see only highly searched keywords, CPC etc, you can customize your search results. So it will only show results that you have set.
Wordtracker provides,
Keyword results based on real searches by real people.

Direct access to the very latest data.


Get details of Search trends, SEO competition metrics.

You can get keyword suggestions from multiple sources, i.e- Google, YouTube and Amazon.

#9.

Ferzy
Ferzy is a simple keyword research tool that gives you keyword suggestions based on Google monthly searches for any specific keyword. You can see average monthly searches and CPC for keywords. You can search keywords by country wise and preferred language.
With the keyword research, you can see which domains are ranking on the top 10 list on Google. Like other best keyword research tools, Ferzy also shows SEO difficulty of any keyword
Their price starts from $17/mo which includes 100 searches per 24 hours, 250 related keywords per search. If you have a big website and wants more searches, then you can get the bigger plan.
Try Ferzy for Free (37% off)
Conclusion
If you have a website… If you want traffic to your website… then keyword research tool is a must one hand tool for you. You don't need a bunch of keyword tools, but you need the best keyword research tool that suits your business.
In this article, I have explained 9 Best Keyword Research Tools for SEO. Each keyword tool provides a different type of features and price. So it's time to choose the perfect keyword tool.
Are you still Confused! …..
Our Recommended Tools
1. We recommend you to use Semrush. Semrush is an All-in-one-SEO tool and it is suitable for any kind of niche. No matter how big your website is, it always works like charm.
Visit Semrush
2. If you especially need a keyword tool for long tail keyword research, then go for Long Tail Pro. It is great for long tail keyword research and Amazon affiliate keyword research.
Visit Long Tail Pro (Save 33% with the annual plan)
3. If you want a cheap keyword tool, then go for KWFinder. It is also a great tool for keyword research.
Visit KWFinder (Save $199 with the annual plan)
---
Others SEO related articles you shouldn't miss,
If you like this article, please share it and don't forget to subscribe us on Twitter, Facebook, Google+.
*This post may have affiliate links, which means I may receive a small fee if you choose to purchase through my links (at no extra cost to you). This helps us to keep WPMyWeb up and running and up-to-date. Thank you if you use our links, we really appreciate it! Learn more.