7 Best Managed Cloud Hosting Providers of 2022
When it comes to hosting something bigger, then we always prefer Cloud Hosting. Cloud Hosting is a new kind of Hosting solution for hosting bigger website or projects. Cloud Hosting functionalities are almost same as VPS Hosting but works in a different way.
If you are a developer or have a blog website, then we highly recommend you to get a Managed WordPress Hosting instead of Cloud Hosting. But if you are running a big project or have multi websites that receive millions of traffic, then Cloud Hosting will be the perfect option. In this topic, we will cover 7 Best Cloud Hosting Providers of 2018.
Before we dig into 7 Best Cloud Hosting Providers, let's see the difference of a Cloud and VPS hosting.
Difference between VPS and Cloud Hosting
These days there is a lot of talk about VPS and Cloud Hosting. Many web hosting companies prefer if you have an organization or business. And there is no doubt that businesses can reap huge benefits from Managed Cloud Hosting. However, it is still confusing either to choose VPS or Cloud Hosting. So, before purchasing, you need to know the key difference between VPS and Cloud Hosting.
VPS Hosting:
VPS also known as Virtual Private Server, is a server with its own copy of Operating System and distributed server resources. You can host your VPS in a virtual environment. For example, if you have a personal computer, that is an example of a VPS. Let's see the Pros and Cons of VPS hosting.
Advantages of VPS Hosting:
VPS hosting are less expensive if compared to Cloud Hosting.
No file or data access occurs between VPS clients on the server.
If one VPS is rebooted, it doesn't affect other VPSs.
Disadvantages of VPS Hosting:
If a physical server fails, all VPSs on that server will go down.
They provide better security options. But if a customer of that server doesn't take security seriously and gets hacked or gets virus, then the server will be badly affected.
They are not scalable that means VPS storage had limitations. Once you meet the max VPS capacity, you need pay for adding extra resources. This can take many hours and even a day.
You can run only one Operating System on a server.
If another VPS on that server gets high load, other VPSs can be affected.
Check, 7 Best VPS Hosting Providers in 2017
Cloud Hosting:
In constant, Cloud Servers are connected together in a cluster and backed by SAN storages. Unlike VPS servers, Cloud servers are connected with multiple machines. You can get unlimited storage, bandwidth, and top-notch hardware. Generally, there are more benefits of using a Managed Cloud Hosting. 
Advantages of Cloud Hosting:
Cloud Server are totally scalable. You can add more server power right away.
Unlike VPS servers, if a physical server fails, cloud servers are moved to another physical server without any major issue.
They provide burstable computer resources, so there is less chance of reaching the max level resources, even on high server load.
They provide unlimited storages as it is based on SAN storage.
Each Customer can select their specific operating system on Cloud Server.
If a customer on that Cloud server gets hacked or gets a virus, then the cloud server will be completely separated and it wouldn't hard other servers.
Disadvantages of Cloud Hosting:
Cloud Hosting price a little bit expensive than VPS hosting.
---
7 Best Cloud Hosting Providers of 2018
There are many Cloud Hosting Providers available, which provide different features, price, and support. So it's hard to choose the Best Cloud Hosting Providers. So we made a list of 7 Best Cloud Hosting Providers, which are less expensive than other hosting companies and provides all features as well.
HostGator
HostGator is one of the Best Cloud Hosting Providers that supercharges your site easily. It provides four times extra resources than a shared hosting, so you wouldn't face any resource limit issues of having high traffic. You can monitor and allocate resources easily from your hosting dashboard.
After deploying your virtual server, if a hardware issue arises, your site is automatically switched to another server. This way your server stays 100% online. Besides, their optimal caching configuration makes your site faster. However, making the site faster isn't the end, you will also need to track your visitors, page download speed, uptime etc. And all you can do this from your dashboard.
You can get Cloud Hosting at an affordable price. Their basic plan starts from only $4.95/m, which offers 1 CPU cores, 2 GB memory, Unlimited Storage, Unlimited Data Transfer and you can host your one domain. Each plan includes local caching, powerful SSD drives, cPanel, Data Monitoring tools etc.
Features:
2X Faster Load Time

Inbuild Caching
Intuitive Dashboard
Automated Failover
Unlimited Storage & Bandwidth
cPanel
24×7 Support
Price: $4.95/m (We are using HostGator Cloud Hosting)
Get HostGator Cloud Hosting
---
BlueHost

(Get a FREE domain)
Bluehost is WordPress recommended hosting which provides all kinds of hosting at an affordable price. On just 2015, Bluehost launched their Cloud Hosting. It offers same features and price as HostGator. If you are finding a cheap Cloud Hosting, then Bluehost is a good option and HostGator alternatives too.
They offer free site migration, so if you already own a website, you can easily migrate your existing site. Besides their fully-managed hosting allows you to add additional resources to your needs, fix automatic failover, monitor resources etc. They also providing integrated caching, so your site load so fast.
Their standard Cloud plan starts from $6.95/m, which includes 2 core CPU, 2 GB ram, 100 GB SSD storage, 1 free domain, unmetered bandwidth, 500 MB email storage.
Features:
Ultra fast(151ms response time)
Automated Migration
Intuitive Dashboard
Integrated Caching
Instant Scaling
Automated Failover
Monthly Billing
Price: $6.95/m
Get Bluehost Cloud Hosting
---
DreamHost
DreamHost is WordPress recommended hosting and it is powering over 1.5 million websites since 1995. Their hosting platforms are specially optimized for WordPress and they also offer a different kind of hosting options. If you are a beginner then you can start with their shared hosting which offers a free domain name registration.
No matter if you are a blogger or a developer, their managed cloud hosting is a great option. Unlike other hosting providers, you can launch your cloud hosting within 30 seconds. They don't limit anything to your hosting and you can run any application on their high-performance SSD cloud servers. If you are thinking to migrate your site or project to their server, they will take care of this. Their hassle-free cloud servers allow you to control everything on your need.
Another thing we like about DreamHost that their cloud hosting price is much cheaper than other hosting company. Their starter cloud hosting plan starts from only $4.50/month and their all accounts come with 100 GB block storage and free bandwidth.
Features:
Scalable Servers

Full SSD storage
Free bandwidth
Lightning Fast Network
99.9 Uptime
24×7 Support
Pay as you go billing system
Price: $4.50/m
Get DreamHost Cloud Hosting
---
A2Hosting 
A2Hosting is the fastest cloud hosting provider. However, their cloud hosting price is a bit expensive, but you will get the full benefit from it.
If you search for A2Hosting reviews on Google, you will see this hosting is the most rated preferred hosting than others. They provide almost every hosting features that a business site needs to be running without any hassle. If you are using a hosting and want to switch to a high-performance hosting environment, then A2Hosting is the perfect solution for you.
Their basic plan starts from $15/month which offers 10Gbps redundant network, ultra-fast hardware, high availability failure, Dedicated IPs, full root access and much more. Unlike other cloud hosting providers, you can configure your own customized cloud hosting which means you only pay what you use.
Features:
Up to 300% faster
Ultra Reliable servers
Can handle massive traffic
99.9% uptime
Pay as You Go billing system
24x7x365 guru support
Ge A2Hosting Cloud Hosting
---
LiquidWeb
Liquidweb provides highly managed cloud hosting that is suitable for all kinds of websites and brands. High traffic sites frequently get traffic spikes which cause downtime, but Liquidweb can easily manage heavy traffic. Whether your site gets 10 hits or 10 million hits, their web server clusters continue to serve your traffic with no downtime.
Liquidweb also simplified their website management system with the simple dashboard. From the dashboard, you can create your website in just a few seconds. With their Cloud Hosting, you don't have to setup and configure a server, all are managed by them. If you have one or multi-website, no problem, they allow you to host an unlimited number of websites without extra charge.
Their price starting from $59/m and offers 1 TB monthly bandwidth, 50 GB SSD Storage, simple dashboard and CloudFlare CDN.
Features:
Unlimited Sites/Domains
Unlimited Visitors
50 GB SSD Storage
1 TB Bandwidth
Built-in Autoscaling
Free CloudFlare CDN
24×7 Expert Support
Price: $59/m
Get LiquidWeb Cloud Hosting
---
Vultr
Vultr is one of the best high-performance Cloud Hosting Providers and a great alternative of DigitalOcean. It can both manage light and heavy traffic. Their all servers are built with powerful infrastructure, SSD drives, lightning fast network and they have total 15 Data Centers over the world.
From their admin panel, you can deploy CentOS, Debian, Ubuntu, Windows etc Operating System. You will be provided full Root access to control all stuff and a dedicated IP address included with all VMs. You can integrate with their API to deploy, destroy and control your instance.
They offer hourly and monthly billing system, so you can pay per hour or month. Their Cloud hosting plan starts from $2.50/mo which includes 1 core CPU, 512 MB memory, 500 GB bandwidth.
Features:
Full Root Access

Infinite OS combinations
Feature-rich control panel
Powerful API
24×7 Online
No Long-Term Contacts
24×7 Support
Price: $2.50/m
Get Vultr Cloud Hosting
---
SiteGround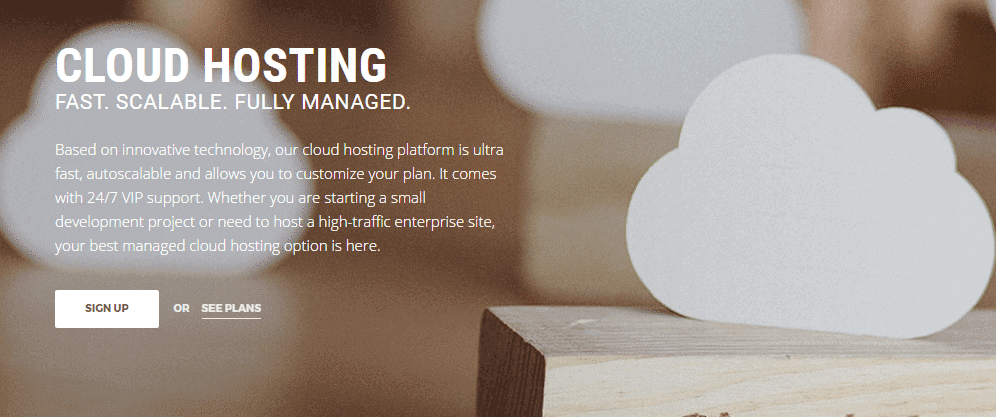 SiteGround offers fully managed Cloud Hosting. If you have small development project or want to host a high traffic site, then SiteGround as the best option. With their every plan, you will get WHM & cPanel, 1 Dedicated IP, IP Tables Firewall, Free SSL certificated, SSH Access etc.
Their starting plan starts from $80/m which offers 2 CPU cores, 4 GB memory, 40 GB SSD Space and 5 TB Data Transfer. They use lightweight Linux containers for their managed servers and you can add additional resources to your server any time to auto-scale upon traffic spikes without rebooting. From their cPanel, you can launch WordPress or any other popular CMS with just one click. They also offer daily backups, free CDN, SuperCacher, Staging etc.
From their cPanel, you can launch WordPress or any other popular CMS with just one click. They also offer daily backups, free CDN, SuperCacher, Staging etc. Being a VIP user, you will get blazing fast support by real experts and less than 10 min replies on tickets.
Features:
Ultra-Fast Platform
Auto-Scalable Resources
Daily Backups & Autoupdate
1 Click WordPress Installer
Staging Areas
GIT Integrated
Free CDN
24×7 VIP Support
Price: $80/m
In this article, we have shown a compact list of 7 Best Managed Cloud Hosting Providers of 2018. I hope this helps you to find the best Cloud Hosting Provider. Do you have any suggestion, please let us know by leaving a comment. You can also find us on Facebook, Twitter, Google+.
Related Articles,
*This post may have affiliate links, which means I may receive a small fee if you choose to purchase through my links (at no extra cost to you). This helps us to keep WPMyWeb up and running and up-to-date. Thank you if you use our links, we really appreciate it! Learn more.